Tree of life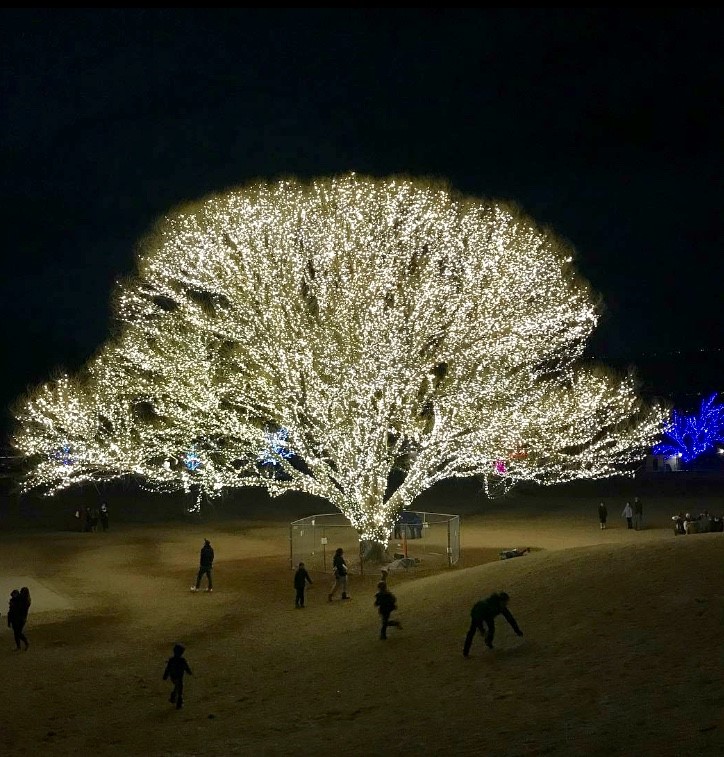 Kadie Gorman, Jr. lifestyle editor
December 21, 2018
Kearns- On Monday, November 30 at 6 pm, Draper City Park lights up; there is an amazing Lone Willow Tree, this tree lights up the Christmas air with over 1,000 strands of lights. Not only that but on the plus side they also have other lights throughout the park including a cute little bridge to walk across. This is a huge recommendation if your trying to get in the Christmas spirit, or even looking for a fun Christmas activity. Better yet it's even free to the public.
The Cougar Claw asked Kelsey Forsyth a former Utah resident in an interview, what did you think about going to the tree of life for the first time? She responded," It was such a blast that tree is spectacular to look up at, the lights are amazing."
Believe it or not there is a lot of labor being put into making this tree come to life as four men working from eight in the morning to eight at night. Working a full three and a half days to complete.
Created to bring people together for Christmas. This heavenly willow tree becomes a very expensive luxury as the entire holiday light display cost $40,000.  Making this beautiful scene come to life. "The Tree of Life is located in Draper City Park, and it is inspired by a scene from the Book of Mormon. In this scene, Lehi has a dream of a tree that is called the tree of life. In Mormon art, the tree is seen as glowing brightly, with pure white fruit, which is represented by flashing lights on the tree in Draper Park." This is where the very well know nickname comes from.
This breathtaking tree is worth the drive to Draper. As the Cougar Claw asks Kelsey, how did you occupy yourself throughout the drive? Kelsey told Cougar Claw, "I personally love long drives but, in this case, the Christmas music is what made the time fly by." To get to Draper City Park, take 12300 South (which turns into 12500 South) and head east to 1300 East. Turn south (right). You can't miss it– just look for the gigantic glowing tree!
The next time you have a free day to adventure, try and join Draper City parks tradition by grabbing a couple of your favorite people and getting into this Christmas spirit. Make sure to throw on some holiday tunes to keep you occupied.