Madrigal Heroes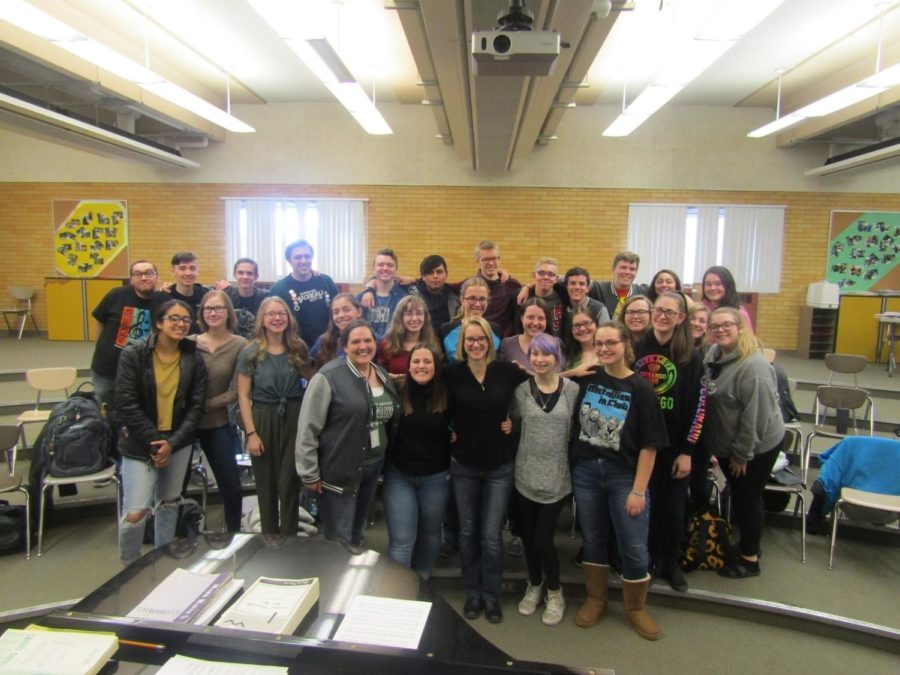 Kearns-Cougar Claw submitted a Survey to Kearns High students regarding who they might consider a hero. There were multiple individuals that were elected as heroes by the students at Kearns High.
The survey included a peer, community members, and a faculty member that were regarded as Heroes.
As such, the Kearns Madrigal Choir were namely praised as Heroes. This young group of talented and passionate singers performed at many occasions, such as the 2017 concert for Christmas in Salt Lake City, Utah. This goes along with their performances in retirement homes and elementary schools during Christmas. The Kearns Madrigal Choir is still on track for greatness.
Cougar Claw interviewed Madrigal choir instructor, Julie Jensen Hill on January 28, 2019. Miss Jensen was asked if there was ever a time, she grew weary and tired from all the singing, and in general, from doing what she is doing. "Not of singing," she replied. "Well, I can't speak for everyone, but Madrigal gets tired of some songs. But they don't let that affect them," she adds.
Cougar Claw asked what keeps her going. What is the source of motivation that keeps her away from wanting to give in? She tells Cougar Claw that there is too much sadness in the world. As such, this motivates her to sing to make an impact on someone. To bring joy and happiness to a world where such things are getting more and more scarce. She believes that music heals the soul. According to http://www.ox.ac.uk/research/choir-singing-improves-health-happiness-–-and-perfect-icebreaker it has been scientifically proven that choir singing can heal a person in unpredictable ways. That of course includes individual singing as well.  It can help improve health and happiness. It was also proven that it can help with social bonds. Since usually it's going to be in a large group.
"I am Trying to get my kids to sound the best they ca, and to bring the best out of them," Jensen replied when Cougar claw asked about her Ultimate goal. It only shows for the young generation that every teacher's goal is to see their students become successful in life.
"If you love doing something, don't let judgement or what anybody says stop you from pursuing your dreams," Jensen relays message for Kearns High.
Kearns High Madrigal choir are heroes to their peers because of the joy their voices bring as well as through their songs. They are heroes who bring joy, they are heroes who fight off the dark and sad energy that may overcome the world. Finally, they are heroes from the proud High school of Kearns.