Playoffs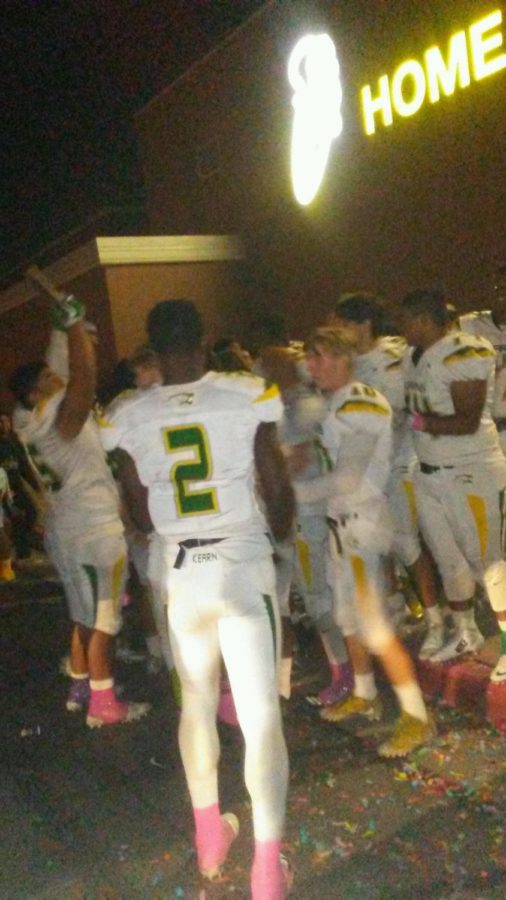 Maddy Littleford
November 2, 2018
Kearns-As football playoffs commence here at Kearns High, spirits are high & we're all celebrating after defeating Granger (42-7) our Cougars are inching closer to being Region Champs and gaining another shot at winning and giving out L's
This year we've managed to plow our way into playoffs successfully after beating Riverton (40-29) Earning Kearns Cougars their 1st round playoff game against Northridge Heights, here in the Kearns High stadium for the first time in 25 years Kearns has won the First round of playoffs with a nail biting game that went down to the last two seconds till our Cougars came out victorious with the game ending (40-37)
This year Kearns is in the 6A second region along with Cyprus, Granger, as Hillcrest, and Hunter. So far, Kearns Cougars are the second highest score in the 6A second region just behind Cyprus High School who has only lost two games, one of them being Kearns' homecoming game
The Cougar Claw interviewed Mr. Walton, a teacher here at Kearns who has been running the clock at home football games. We started off by asking him how he thought the season was going so far
"Their doing fairly well, I expected them to win against Riverton & Granger" The Cougar Claw asked Mr. Walton how far he thinks the Cougars will go in playoffs this season
"I really believe they can win playoffs, I think they'll have no problem winning the first game against Northridge, but I do believe they will face challenges after that, but that's when game's get interesting & fun to watch."
We concluded the interview with the last question being about any outstanding player Mr. Walton has noticed from running the clock from the announcement booth.
"Personally, I've seen Isaiah Afatasi, number five, And Kalux Manuo, number 34 do fairly well on the field." He continued "Also not to forget Mekhi Bright, number seven, And Dakota Lynde, number ten have improved their performance a lot from what I've observed from the announcement booth"
All the varsity Cougars, their support system, and even some alumni from Kearns are all proud of the Cougars for breaking the "Curse" that's been holding Kearns back from the 2nd round of playoffs & becoming State Champs since 1989. Since Kearns won the first round against Northridge our Cougars are facing off against Bingham again at Kearns high on November 2nd
Let's wish our Cougars the best of luck this Friday!