Love and Loathing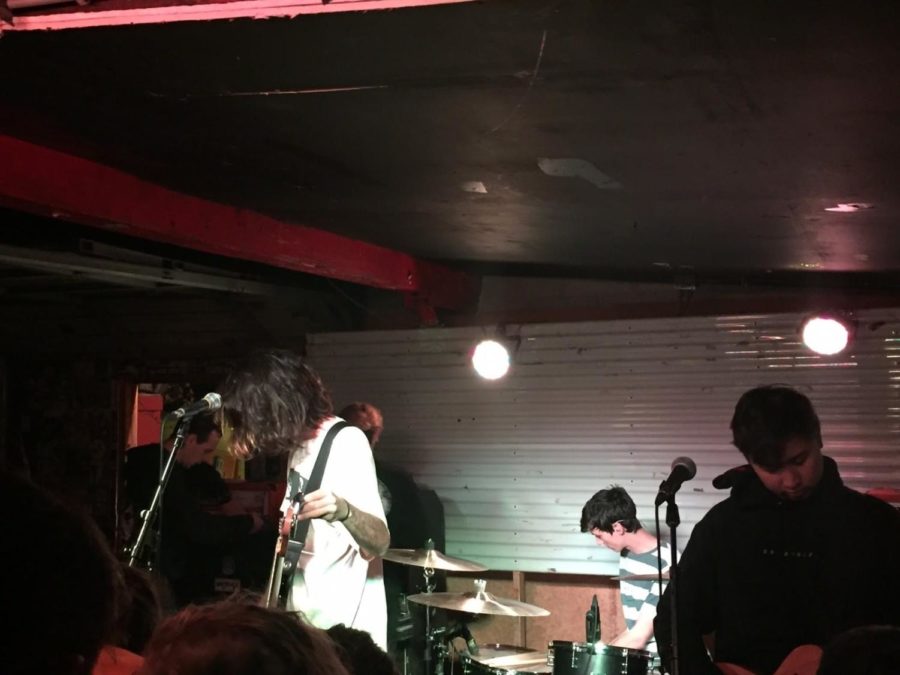 Bea Williams, Senior Student life editor
December 21, 2018
On December 11th, 2018 the pop punk band With Confidence made an appearance in Salt lake City for one of their concerts on their current tour following their album, "Love and Loathing." Ironically they decided to name the tour, "Love and Loathing in Paradise." The concert was held inside of a venue known as Kilby Court and is located on 748 W Kilby Ct, Salt Lake City. The concerts start time was 7 pm but the doors opened at 6, but I had decided to arrive a bit before the doors opened because I wanted to beat rush hour traffic. As I stood in the line I could slowly start to feel my body turn into an icicle but just as I began to throw around the idea of going and sitting in my car the line began to move and once I made my way up to the ticket verification window the kind worker stamped my hand and the ink spelled out "Kilby Court." I quickly made my way into the small building where the bands were going to be performing and as soon as I entered I knew a night of fun was right in front of me.
The time seemed to go by so much slower than before and my group and I stood in the crowd anxiously awaiting for 7 o'clock to come around, once that time hit the stage lights went off and the first band to perform that night came up on the stage. Small Talks performed seven songs including two new songs from their upcoming album, "A Conversation Between Us."  After Small Talks finished their set the next opening band made their way to the stage, they are known as Sleep On It, they also performed seven songs and although I had never listened to their music beforehand I really enjoyed their set and how interactive they were with the crowd and even found myself dancing along to their songs. Sleep On It was the final opening band playing but there was still one more band left until With Confidence played because the band Broadside was on tour with them co-headlining. As Broadside made their way to the stage the crowd began cheering and sang along with them the whole set, I also became an instant fan after seeing them and the way they interacted with the crowd was amazing and they gave some very nice words of reassurance as well before performing one of their slower songs.
As nine o'clock rolled around With Confidence finally appeared on the stage but before hand they made quite an entrance! The stage lights had suddenly shut off and the most heart wrenching note echoed through the speakers, which was Welcome To The Black Parade by My Chemical Romance and the whole crowd immediately began to sing along and towards the very end of the song the lights back on and the drummer Josh Brozzesi was the first in line, then bassist Inigo Del Carmen, and lastly lead singer Jayden Seeley. The first song performed was one of their most popular songs off of their album called, "That Something" followed by 11 other songs, two of which were included in the tiny acoustic set. The Cougar Claw conducted an interview with Shayla Williams who also attended the concert. "I really enjoyed the concert, the main reason was because of how small the venue was and how happy the band and people were, It definitely made a positive warm environment." She explained and went on to say, "My favorite song they performed was Paquerette." When asked why she liked that song so much she said, " You can really hear and feel all the emotion he puts into the song while performing it. It was really amazing to see everyone so calm and in the moment." She said. As the concert came to a close Jayden explained to the crowd that they will without a doubt be coming back when they get the chance to tour again and hopefully they will be able to sell out the venue once again. As the concert continued I and many others continued jumping around and belting out the lyrics to each song, nothing feels more at home to me than being in a room filled with a band I love and people who love their ,usic just as much. It truly is a one of a kind and it is a feeling that I will never get tired of feeling and I know it won't ever fade away.  In the end this concert was such an amazing experience and I'm so happy I had the opportunity to attend it, this is a concert that will forever be in my favorites list.
That Something
Keeper
Sing to Me
Godzilla
Archers
Jaded
Long Night
Pâquerette (Without Me)
Here For Nothing
London Lights
Moving Boxes
Voldemort
Icarus