Utah Recovering After Windstorm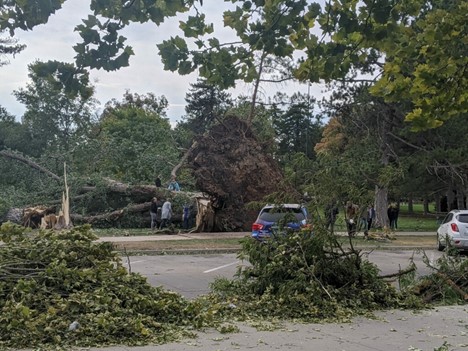 Richard Necochea
October 12, 2020
From September 7th to the 9th, Utah was going through extremely heavy wind, and anyone living in the state would already know this very well, but how bad really was the wind? The windstorm is still affecting the state after the weeks that have passed.
Over the past month, the wood from the uprooted trees has been donated to the Native American tribes- 3 million pounds. Over 17,000 homes in Northern Utah lost power and though the numbers dropped over time, there were still many without power even days after the wind with the numbers still over 1.600 on September 13th. On September 22nd, there were over 100 power outages affecting over 500 customers. 328 of these customers were near Kaysville.
This was the largest windstorm that Utah had experienced since December of 2011, where millions of dollars worth of damage had occurred during winds that reached 100 miles per hour, putting it on the same level as a category 2 hurricane. The wind speed this year was slightly lower than 2011, but the damages were higher. Only 50,000 customers in 2011 were without power, which is small compared to the number of power outages Utah reached this year.
Some school districts, including the Ogden, Weber, Davis, and Salt Lake City districts were forced to temporarily close because of the power outages.
Logan Peak was reported to have max speeds of 97 miles per hour, whereas The University of Utah had speeds up to 89 miles per hour. The highest of all was in US-89 of Park Lane, which was up to 99 miles per hour.