COVID-19 Plays a Part in Sports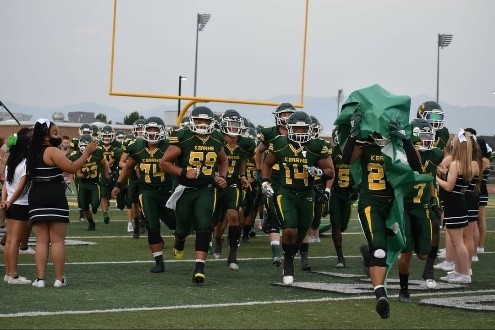 The Coronavirus Pandemic's change to the way people do their everyday tasks, including athletes. Coaches Diaz, Kearns High School's girl's volleyball, and Rickards, Kearns High School's football, are enforcing protocols for their athletes so they can complete the season.
Coach Rickards is helping to prevent his athletes from getting sick by taking temperatures before practice, they sanitize their hands along with the equipment after practice, they try to maintain social distancing on the field and on the sideline, and they also symptom check the athletes every day.
For the fans that want to come enjoy a home game, go to the @kearnshs page on Twitter to obtain information on how to get tickets for these games. to find your ticket once they are on sale. Kearns High is only allowing 25% occupancy for the games, so if someone comes to the game with the virus, Admin can do contact tracing to reach out to everyone who was there. Due to Salt Lake City guidelines, masks must be worn at games. The Cougar Claw asked coach Rickards what he is going to do as a coach if the rest of the season gets canceled, and he states, "I don't want to even think about that."
Much like what Coach Rickards and his staff are doing to help prevent their athletes from COVID-19, coach Diaz, the head coach of the Kearns High School girls volleyball team, is taking precautions to help prevent the spread of the disease. Much like Rickards, Diaz and his staff follow protocols given by the district, which allows his athletes to play.
"I think the big thing is establishing the culture that naturally the athletes are going to want to hang out and spend time with each other, but also knowing that the infection could happen. If it happens, and it hits our team, our season might get canceled or some games will get canceled. The girls know to be cautious," Diaz stated.
Diaz's team is prepping in case the rest of their season does get canceled. Playing for a little over a month, they have been able to continue with their season but are hoping that they can finish the season they have started.