Lets go Bust Some Clay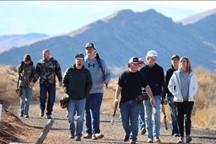 Everyone has a passion for something, trap shooting is one that many kids around the country share. Mike Stuart has been the head coach for the Riverton Shooting Club for the past six years. Mike started coaching Riverton because his son showed passion for the sport. Grayson (16) has been shooting since he was seven.
Due to the increase, it has affected how the team has been doing since last year. The team from last year has a 10 percent increase in kids on the Riverton team and 35 percent in the state.
Riverton, as well as the other teams around the state of Utah, has some big competitions coming up. To kick off the year in January, they went down to St. George for their season opener. Their next big competition is in Las Vegas, Nevada for their Western Regionals where they will be shooting events such as International Skeet, Five-stand, American Skeet, Sporting Clays, and American Trap.
American Trap is the main sport that this team practices, but some of the competitors go off and shoot some other events. Zade Moody and his dad James Moody shoot a lot of Sporting Clays. Grayson and some other shooters shoot some American Skeet along with Sporting Clays to get more proficient in three clay target disciplines.
Axle Street has been with the Riverton team for four years now. After deciding that baseball wasn't something he was interested in, Bobby Street talked him into shooting with the team. Four years later, he still shoots, and he is happy with the friendships and scores that he has obtained.
Grayson Stuart is also a competitor with the team. Stuart has been with the team for a little over seven years and has some high expectations for the team. "I want us to win the high overall team trophy at the state tournament. I want to win the highest combine score at the Western Regionals down in Vegas, and I want to maintain our traveling trophy at all the shoots," Grayson states. The traveling trophy is a trophy that is awarded at all youth competitions. The team with the highest combined scores within the northern Utah teams keeps the trophy until the next shoot.
As coach, Mike Stuart has expectations in his team, he hopes to attend all scheduled competitions and have an increased participation at every shoot.