Sarah Wall: Kearns' New Administrator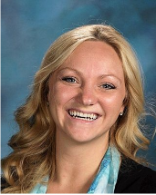 As we welcome a new school year, we also are welcoming new faculty members. As many teachers and administrators left Kearns or retired, many new faces have appeared. One of these new faces is a new administrator Sarah Wall.
Sarah Wall is one of the new assistant principals, who mainly works with 10th graders. Before she came to Kearns, Mrs. Wall was an assistant principal at West Lake STEM Jr High. Before Mrs. Wall became an administrator, she was a teacher at Jefferson Jr. She taught English and special education and also co-taught with other teachers.
In an interview with the Cougar Claw, when asked if she always wanted to be an administrator she stated, "Administration never even crossed my mind as something I wanted to do or even thought I could do until about 5 years ago when several people started saying that I should pursue administration. Ever since, I have been pursuing this goal and even though I miss teaching every day, I still absolutely love being an administrator. It is 10 times harder than I ever imagined. However, I believe the work we do as administrators impacts the work educators do for kids on a bigger scale and that is what keeps me going. I want to do what is best for kids and help spread that."
When talking about the Kearns community, she stated the following, "Thank you Kearns!, You rally together when someone has been hurt, you speak up when you feel an injustice. I am grateful to be a part of such an amazing staff, faculty, student body, and community as a whole. I will do my very best to serve you and your children. Each and every day I will do what is best for kids and help them see that they are valued. Thank you Kearns…GO COUGARS!"
Mrs. Wall is married with four children, and two grandchildren, and one German Shepard. Some of the hobbies Wall has with her family include traveling, camping, and hanging out with extended family. Personally, she enjoys woodworking, painting, dance, cooking, and building things.