Calling All Entrepreneurs!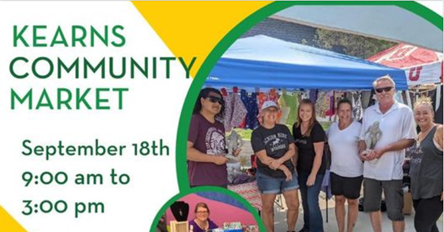 Come join our Kearns community at the Kearns Library for the Community Market. This event, organized by Emily Maynes, gives entrepreneurs, especially young entrepreneurs, a chance to share their talents with the world by selling a wide variety of things. This ranges from cement yard decorations, homemade crafts, baking and even paintings.
Emily Maynes organized this event because she says that she has always had an entrepreneurial drive from watching her dad, who owns his own cabinetry business. Maynes, a stay at home mom, has always wanted to run a business of her own. She does this by getting her name out there and helping others share their talents, which has been a dream of hers for a long time. Why does she do this? Maynes stated, "I love being able to serve the community in a way that I get to help other people who have the same aspirations I do, share their gifts. Watching them interact with the public while working at the same time brings a smile to my face."
Emily Maynes, a Kearns High alumni, has always been for the community. As stated before, she loves helping her community to watch it grow into something wonderful. She states that as a hard hit area, community, and nation, we should come together and overcome this.