It's a Bird, It's a Plane, It's… a Corgi?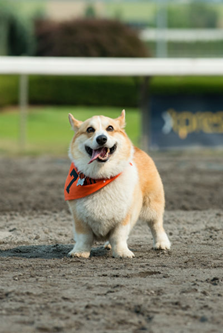 On August 21, families everywhere were pleasantly surprised when they turned on ESPN and saw 74 welsh corgis racing towards the camera. The race was the 2021 annual corgi race that took place at Emerald Downs Racecourse in Auburn, Washington. Though the event was public, it wasn't advertised so very few people were aware it was happening. Surprisingly, corgi races have been around since 2017. The first annual corgi race at Emerald Downs was in 2017. The winner of the original race was #12, better known as Harley.
The winner of the 2021 race and current champion is a 5 year old corgi named Angus. Born on Monday, December 5th 2015, Angus has created a name for himself. More accurately, his owners have. Davis and Marian Phan made Angus an Instagram page called @thecorgistory that has managed to rack up over 8,600 followers. Who doesn't love to see an adorable corgi when they open their social media?
Although most people were thrilled to see a bunch of little dogs running across a track, it still had its fair share of critics. John Dissauer, chief meteorologist at KLKN-TV, tweeted out, "ESPN has dropped to a new level. Airing corgi races. Heck, bring back @DCI (drum corps international)!"
Most people, however, seemed to favor the corgi races over the usual sports. One person tweeted, "I was gonna watch @SoundersFC but there's corgi racing on ESPN." Another said "Preseason football is fine but did you know there is corgi racing on ESPN right now? CORGI RACING".
We all have to agree that seeing 74 tiny dogs and 296 even tinier legs running around is pretty cute.