When in Doubt, Stay Out!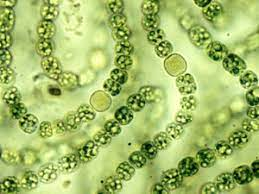 If you've been on the internet at all during the past few weeks, you might have heard the term Microbial Proliferation. What exactly is Microbial Proliferation? Proliferation means a rapid increase, so microbial proliferation is a dangerously rapid increase in bacteria. Why is this relevant? Why exactly should you care about bacteria?
Although typically harmless, algae carry the potential to have disastrous effects and Utah is not immune.
In Utah specifically, algae blooms have a history of wreaking havoc. Dr. Kate Fickas warns that droughts and high temperatures will result in more algae blooms earlier in the year than usual. The same type of algae bloom that caused the Great Dying as well as a few other dangerous variants are now on the verge of taking place in various lakes around Utah.
The Great Dying, a severe loss of life, was caused in part by an uprising in Volcanic activity which sparked a dramatic increase in global temperatures and greenhouse gas emissions. This caused toxic algae blooms and dangerous microbial proliferation to spring up throughout the world. The algae blooms in turn created a chain reaction of devastation. Not only are aquatic ecosystems affected, but all the ecosystems that relied on them.
Perhaps the most worrying type of algae is cyanobacteria. Cyanobacteria can produce highly potent cyanotoxins that have the potential to pose severe health risks. This type of microbial proliferation is especially dangerous to those who are sensitive to mold. Exposure can cause eye and skin irritation, wheezing, and nasal stuffiness. Fickas warns to stay out of water that looks like "green spilled paint, pea soup, sometimes it looks like somebody spilled their lawnmower clippings directly into the water." If you are going to swim in water, make sure to wash your hands thoroughly with clean water and don't swallow any of the water you're swimming in. If you do happen to swallow any water, seek medical help immediately.
For the time being, it may be wise to avoid freshwater areas. If you find yourself debating whether to go into a body of water that looks questionable, remember: When in doubt, stay out!