Whose That Cougar
Kadynce is a part of the tennis team. Her managers, coaches and the girls on the team have helped her improve as a tennis player. Her coaches and managers are her sports heroes because that is the reason she is where she is now. 
   What helped her improve is practicing what she needs to work on, and that's what helped her improve. Kadynce quote is "it's okay to fail, because failing is a way of succeeding."  Kadynce doesn't really like sports but she took a liking to tennis her freshman year. She thought it would be fun and it was  for her. Kadynce was in tennis for a few months now. She's having a lot of fun and she's glad she took it.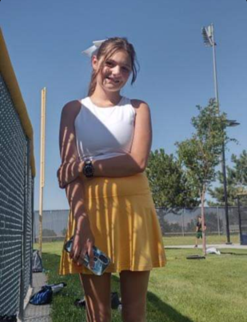 Kadynce is also in choir and GTI class . Kadynce is in her sophomore year and she has been doing choir since freshman year here at Kearns high. This year she's in concert choir. For her GTI she's taking childhood education. And she's been in tennis since our tennis started this year. 
   When she graduates high school she wants to travel to a couple of places. Before she decides to head off to college. She wants to go to college for psychology or a doctor. And she loves her family and friends. She is so thankful for them. And having them help to get her where she is. She really loves all her teachers that have helped her along. She is about hard work and getting ready for graduation. She loves to write about all kinds of things.    
   In her free time she likes to research about things she likes or find interesting. And one of the things she likes to do after school is watch television.