Wandering Through the Leonardo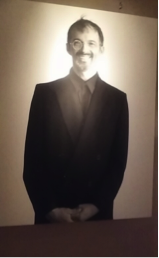 For a limited time, the Leonardo in Salt Lake City is holding two exhibits. Theses exhibits are called No Fixed Address and Perception: The Illusion of Reality.
  No Fixed Address shines light on the homeless people of Utah. They want you to realize "that these aren't 'homeless people,' they're people. And they're just like you." Throughout this exhibit they have set up donation boxes so that "if you feel inspired to give you can donate to the organization of your choice right here." 1 in every 213 people in Utah is homeless. In the exhibit, one image says that of those homeless, 14% are single women, 3.9% are chronically homeless, and 80% need shelter for less than two weeks.
  Perception: The Illusion of Reality has three different sections, each focusing on a different sense. The first section focuses on sight, where people are given the opportunity to see illusions, reenact philosophical stories, and explore how language can be misleading. The second section focuses on hearing, where people are able to put on headphones and sit for a virtual haircut. They will also have the opportunity to master foley, as well as try to deliver an oration while wearing a speech jammer. The last section focuses on people's sense of touch. They're given the chance to navigate a tactile hall with just their senses of touch, dive into tactile boxes, and reveal features of their nervous system they may not have known. When asked about the exhibit, Cody Davis, a junior at Kearns High who attended the exhibits, said, "They were pretty fun. It was crazy seeing the different kinds of people who were living without homes. I would definitely go again."