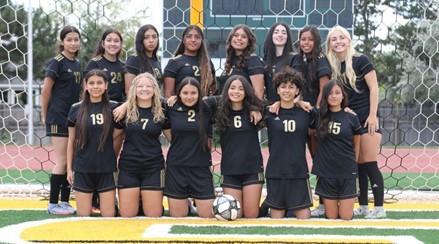 Do you think that there is favoritism between the girls and boys soccer teams?  Kearns High School girls soccer team answer questions about the evolution of sports in Kearns High School as female athletes in 2023 and about girls playing a sport in high school and how supportive the school is compared to the boys.
Girls' sports have always had a lack of attention. Girls always get the least attention compared to the boy in any sport even though some of the girls are dominating in the sport the girls soccer coach Jennasee Robison said, "Girls soccer wasn't recognized or seen when it first came out. The girls soccer was seen as the easier, softer, and seen as girls don't play as hard. Now you look at it and find these women are making the same amount of money as the men sometimes more, and women are winning championships. When you look at the United States alone, you have the women's team that has won four world cups while the men have none." Kearns high school athletics program also lacks when it comes to giving girls attention, Val Lara Lopez (Jr. #6) "our program here alone and we've won a region champion  4 years ago and were on track to winning another this year and if you look at the boys team they  haven't fallen into sync in being continuously successful"  Also "A girls team could be having an amazing season while a boys team isn't and people will only focus on the boys including the adults at school." Girls' soccer hasn't been around for a long time and it has been one of the newer sports in high school." It hasn't been that long since girls soccer was officially a high school sport, so there are kids here whose parents were in school and girls soccer isn't a sport but their girls are here winning titles" Coach Robison. 
According to the girls' soccer team their isn't favoritism but a lack of attention and comparing the two teams, girls deserve their own platform as female student athletes they also deserve more or the same attention from the student body. Also, girls teams shouldn't feel like they are not prioritized by the school because they are representing us and putting their best effort in winning while the school acts like they don't care. So support the Girls Sports no matter what, in the end were all Cougars!